Suprema is a leading global provider of Fingerprint Access Control, biometrics and security.
By combining world renowned biometric algorithms with superior engineering, Suprema has introduced a number of technology initiatives and innovations to the security industry over the last couple of decades. Suprema has established itself as a premium global brand in physical security industry and has worldwide sales network in over 130 countries. Suprema has no.1 market share in biometric access control in EMEA region and named to the world's top 50 security manufacturer.
Suprema supports world wide sales network that spans across more than 133 countries around the world and was the first biometrics company listed on Korea's stock market (KOSDAQ 094840)
World Best Fingerprint Technology
Multi-Award winning Fingerprint Access Control technology
Proprietary algorithm, sensor, devices, and software solutions
Top class R&D investment with numerous patents
Numerous References, Key Strategic Partners
Sold to more than, 1.000 customers located across 133 countries worldwide
Extensive government, military, police, and corporate references
Global partner program for training, technical supports and upgrades
Structured sales policy though authorized distribution channel
High Quality State-of-the-art Products
Powerful, efficient and reliable technology proven in the field
Continually evolving and developing systems and applications
High quality manufacturing through quality control
Manufactured from top quality components and materials
Excellent Financial Stability
Fastest growing company specializing in Fingerprint Access Control and biometric solutions
Independent company listed on KOSDAQ(Korean Stock Market)
Market Capital of over $350 million(2014)
Solution overview
Access control is a solution which is absolutely required in all fields and scales as a basic element of security. From research institutes, data centers and secure areas to factories, apartments, offices, construction sites, hospitals, schools and banks, it is widely used at places that are trying to physically protect property or information from unauthorized people. Suprema's access control solution is a biometrics-based system, providing greatly improved security than the access control solutions that use RF card only. It is the most ideal solution equipped with all features that a user needs such as easy user management, a various zone management, elevator management or real-time monitoring.
Suprema's time & attendance management solution simplifies employee timesheet monitoring, calculation of work hours and collection of time & attendance data. Delegated authentication is impossible because it is a biometrics-based time & attendance management system and you can set up various types of work schedule/work shift. It enables human resources management and time & attendance management in one system since you can easily connect with HR or ERP systems and easily see personalized time & attendance reports and calendar view at a glance.
Facial Recognition – Face is the easiest way to distinguish individuals among people. Facial recognition device feels closest to people without repulsion because it authenticates by recognizing people's faces. Suprema's facial recognition technology helps with fast, easy and intuitive user authentication and it offers various possibilities.
Mobile fingerprint authentication – Suprema's BioSign is equipped with an algorithm optimized to mobile fingerprint authentication. It offers excellent authentication performance with two-step matching algorithm of a patented Entropy Point Pairing method, providing an optimum structure for mobile embedded applications. With its deep learning-based algorithm, it also reflects the user's fingerprint conditions and fingerprint authentication habits to offer outstanding accuracy and fast authentication performance.
Cyber Security – Access control and time & attendance management system using biometrics requires proper technology and regulation to prepare for specific security threats. Also, the factors related to security are complementary without independent factors and a lot of resources must be considered. Suprema's solution offers various methods to provide enhanced security.
Biometric Readers
RF/ Mobile Readers
Intelligent Controller
Open Platform
Peripherals
OEM Fingerprint Modules
Discontinued Products
fingerprint access control systems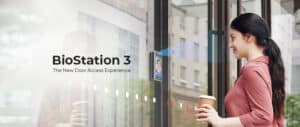 access control biometric fingerprint reader
fingerprint access control device